14 Feb

Seven Months and Counting!

We're just months away from the opening of Lynn's Place, one of the most exciting chapters in our agency's 26 year history. As we countdown to our first affordable housing initiative, construction crews continue to make wonderful progress to ensure everything remains on track.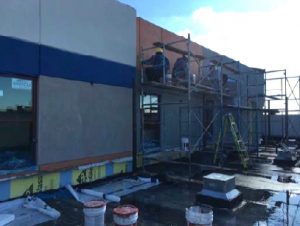 So what does it take to make such a large-scale project a success? It takes: one site superintendent, two brick layers, nine carpenters, three plumbers, three electricians…and that's just to name a few! With outstanding diligence and a careful attention to detail, teams are hard at work installing drywall, sprinklers, electrical risers, and much more. Insulation and window installation remain ongoing as well.
Unique People Services (UPS) has also begun moving forward with a green roof addition to the main roof. Solar panel installation is expected to be complete by the summer, as the agency remains committed to clean energy and sustainable, environmentally-friendly practices.
Through the support of first-rate contractors, consultants, Hudson Housing Capital and the New York City Department of Housing Preservation and Development (HPD), we're thrilled to work side-by-side with our dedicated community partners to make this groundbreaking project a reality for future residents who will soon call Lynn's Place home!